In addition to using a booking agent or visiting one of the train stations, passengers can book SGR tickets via M-Pesa. I am a Kenyan who loves traveling between Nairobi and Mombasa, and I have used the Madaraka Express train on many occasions. Therefore, in this article, I'll share my experience on how to book SGR tickets via M-Pesa.
How to Get M-Pesa
M-Pesa is a local payment method in Kenya. It means Mobile-money in Swahili.
To make a Madaraka Express train booking via Mpesa, you need to get a Kenyan SIM card for your mobile. The Safaricom network issues the SIM card, which costs about Ksh 100.
From there, you need to open an M-Pesa account. You can do this from your mobile phone or ask the agent who sold you the SIM card to activate M-Pesa for you. After activating M-Pesa, load the account with enough Kenya shillings, and you'll be able to book SGR train tickets via Mpesa.
How to top-up your M-Pesa Account: Give cash to an agent, who will send it to your mobile phone M-pesa wallet.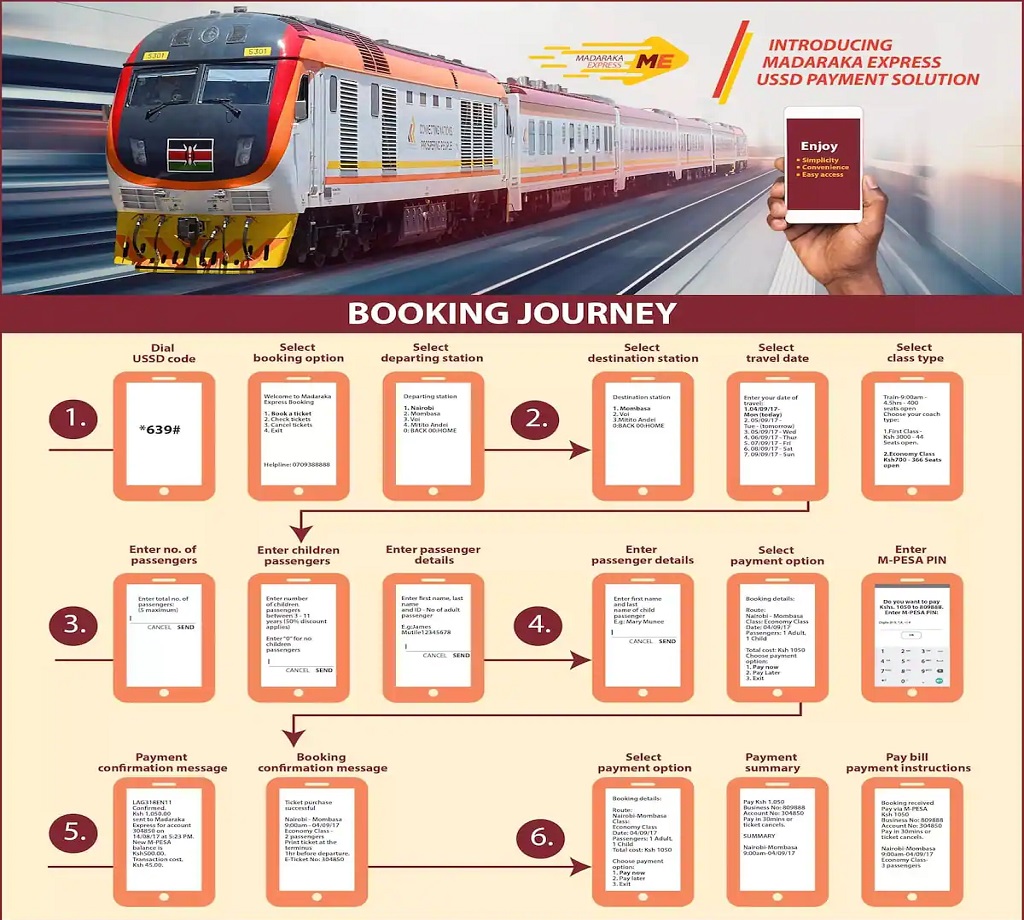 How to Book SGR Tickets Via Mpesa
There are two ways to book SGR train tickets between Nairobi and Mombasa using M-Pesa. They include using USSD Code or visiting the Kenya Railways website.
Using Kenya Railways USSD Code *639#
To book SGR (Madaraka Express) tickets using USSD code *639#, follow these steps:
Dial *639# on your Safaricom mobile phone.
Select the desired language (English or Swahili) from the options provided.
Choose the "Book Ticket" option from the menu.
Follow the on-screen prompts to enter the necessary information, such as the train type (Express or Inter-County), starting station, destination, travel date, and coach type.
Enter passenger details, including full names, ID/passport numbers, and contact information.
Proceed to make the payment using M-Pesa, usually by entering your mobile money PIN.
Once the booking is successfully processed, you will receive a confirmation message containing the booking reference number (Account Number).
Metickets Online Booking Website
Visit the Kenya Railways booking website and enter your trip details. During checkout, you'll be asked to enter your payment method. Go ahead and type your M-Pesa mobile number.
When you click "Pay Now," a prompt will be sent to your mobile number. It contains the ticket amount and your Account Number. All you have to do is enter your Mpesa PIN to complete the payment.
Read Also: Madaraka Express Advance Booking Online Without M-Pesa