Embark on an extraordinary safari adventure with the Kisumu Safari Train. Experience the thrill of exploring Kenya's hinterland and landscapes as you travel from Nairobi to Kisumu. Discover the schedule, ticket prices, and booking information for an unforgettable safari-themed train journey that combines comfort and excitement.
Kenya Railways Corporation has recently introduced an exciting addition to their train services – a 12-hour overnight passenger train between Nairobi and Kisumu. This new train replaces the previously known Kisumu Safari train that operated in the mornings.
Kisumu Safari Train Schedule
According to the corporation, the Nairobi to Kisumu train will run every Friday, departing from the Nairobi Central Station at 6:30 PM and arriving in Kisumu at 6:30 AM the following day.
The return trip will take place every Sunday, with the train leaving the New Kisumu Station at 6:30 PM and arriving in Nairobi at 6:35 AM the next morning.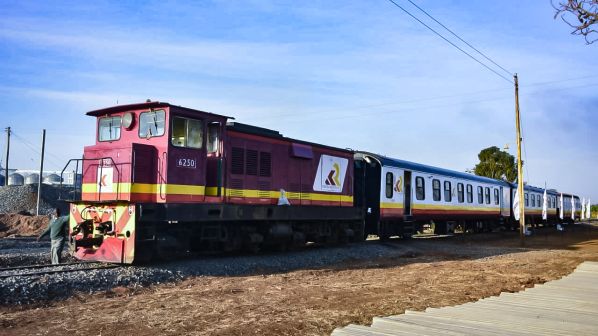 Train Stops and Stations
The Kisumu Night train will make stops at various stations along the route. These stops include Kibera, Kikuyu, Longonot, Nakuru, Elburgon, Molo, Mau Summit, Londiani, Kipkelion, Fort Ternan, Muhoroni, Chemelil, and Miwani before reaching the New Kisumu Train Station. Additionally, there are other stations along the line such as Dagoretti, Limuru, Uplands, Kijabe, Suswa, Naivasha, GilGil, Mbaruk, Nakuru Junction, Njoro, Turi, Kedowa, Tunnel, Koru, and Kibos.
Prices for the Train from Nairobi to Kisumu
While the schedule has been modified, the prices for the Kisumu Safari train remain unchanged. Passengers in the Economy Class will continue to pay Ksh 600, while those opting for the First Class Coaches can expect a fare of Ksh 2,000.
How to Buy Tickets for the Kisumu Safari Train
Booking the Kisumu Train is simple. Interested passengers can visit their nearest station or contact Kenya Railways Corporation through the provided phone numbers: 0115169759 or 0115402558.
If there is a need to cancel a booked travel, it is important to note the corporation's cancellation policy. Requests for travel cancellation should be made at least 24 hours prior to the scheduled departure time.
In Conclusion
Embark on a memorable overnight journey aboard the Nairobi to Kisumu train and experience the convenience and adventure of traveling through Kenya by rail. Enjoy the scenic views, comfortable cabins, and the opportunity to explore multiple stations along the route. Don't miss out on this incredible travel experience – book your tickets today!
Learn More About Kisumu County: Where Culture, Beauty, and Vibrancy Unite