Explore the Madaraka Express Online Booking Process. Go to the Metickets platform, select your preferred train, plan your trip, and pay online with M-Pesa.
You'll experience numerous advantages and more when you choose to book your Madaraka Express train tickets online. By leveraging the online booking system, you can unlock a range of benefits that enhance your overall travel experience.

Madaraka Express Online Booking Process – Simplified Steps
Discover the seamless and convenient way to book your Madaraka Express train tickets through the online booking process. With just a few simple steps, you can secure your tickets from the comfort of your own home, office, or school. Say goodbye to long queues and enjoy a hassle-free experience with Madaraka Express online booking.
To initiate the online booking process for Madaraka Express, visit the official Kenya Railways Booking Platform.
Choose your preferred train option, either Madaraka Express for afternoon travel or SGR Intercounty for morning journeys.
Select your starting station from the available options, including Mombasa, Athi River, Emali, Kibwezi, Miaseny, Mariakani, Mtito Andei, Voi, or Nairobi.
Enter or select your desired destination: Nairobi, Voi, Mtito Andei, Mariakani, Miaseny, Kibwezi, Emali, Athi River, or Mombasa.
Specify the travel date, indicating when you plan to embark on your journey.
Select the coach type and indicate the number of passengers, choosing between Second Class or First Class accommodations.
Provide the necessary passenger details, including full names, ID or passport numbers, and country of origin.
Enter your M-Pesa mobile number, which will be used for payment and further communication.
BOOK MADARAKA EXPRESS TICKETS WITHOUT M-PESA
How to Get Your Boarding Passes
Upon completing the SGR online booking, you will receive a confirmation message containing an Account Number. This Account Number and your M-Pesa Mobile Number will be required to print your boarding passes at the departure station.
Benefits of Online Booking for Madaraka Express
Booking train tickets for the Madaraka Express online offers a range of advantages and more. By following a simple process, customers can experience the following benefits.
Simplified Process: Make your life easier by opting for the simplicity of online train ticket booking.
Enhanced Convenience: Enjoy the convenience of booking your tickets anytime, whether you are at school, the office, or home.
Flexible Payments: Make use of M-pesa as a payment method, allowing for real-time confirmation of your booking.
Superior Customer Care: Access excellent customer service around the clock through phone, chat, or email.
Opening Hours of SGR Train Stations
To plan your journey accordingly, note the operating hours of various SGR train stations.
Mombasa and Nairobi Terminus: Open from 06:30 AM to 10:00 PM.
Ngong and Rongai Stations: Operational hours are from 05:30 AM to 08:30 PM.
Suswa, Maai Mahiu, Mariakani, Misaenyi, Voi, Mtito Andei, Kibwezi, Emali, Athi River Stations: Open between 07:00 AM and 04:00 PM.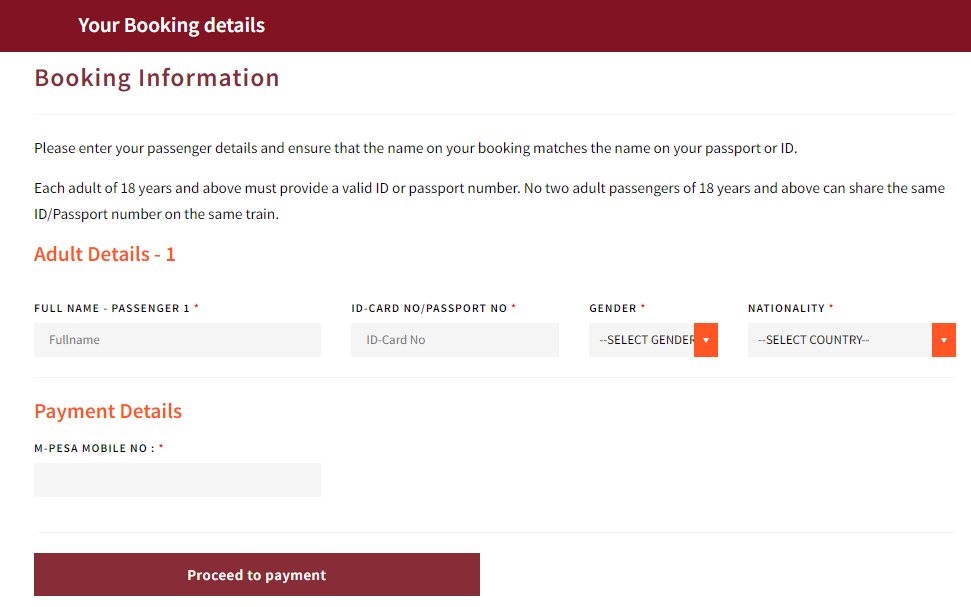 How to Book SGR Tickets Online in Kenya
Follow these steps to book your SGR tickets online successfully.
Go to the SGR Online Booking Website (Metickets)
Select the type of train (Express or Inter-County) and input your travel details.
Proceed to make the payment using the M-Pesa payment option.
Receive your booking confirmation via SMS containing a unique account number or code.
On the date of travel, present the SMS confirmation to print your ticket.
Available Payment Options
Madaraka Express offers a variety of convenient payment options, allowing customers to book tickets from the comfort of their own homes, schools, offices, or workplaces. Currently, the following payment methods are available:
M-Pesa Payment: Pay for your booking online or through USSD by entering your M-pesa PIN. Please note that passengers have a maximum of 2 minutes to complete the payment, or the ticket will be canceled.
Madaraka Express Online Booking Without M-Pesa
For visitors coming from outside the county who do not have access to M-pesa, we offer assistance in booking train tickets for a nominal fee. For further information, please contact us directly.
In Conclusion
There you have it. Now that you know everything about Madaraka Express Online Booking Process and its benefits, go ahead and plan a memorable trip to Kenya.